Earlier this week, Darius joined Maggie Lake and Andreas Steno on Real Vision to discuss the Fed, Inflation, and more.
If you missed the interview, we have you covered. Here are three key insights that will save your portfolio:
1) We Believe The Narrative Surrounding Inflation Will Change In 3-6 Months
The interplay between immaculate disinflation and rising soft landing expectations has been the driver behind asset markets this year.
We believe any potential shifts in this narrative are not being adequately priced into market forecasts.
Reviewing several key inflation measures—median CPI, trim mean CPI, median PCE deflator, trim mean PCE, core PCE, and super core PCE—highlights a concerning trend. Sequential trends, especially for median CPI and trim mean CPI, indicate stagnation between 3% to 4%. If this lack of progress continues, it could be problematic for the economy.
Our models indicate that a recession in the US economy is unlikely to begin until Q4 this year or Q1 next year, with the depths of the recession probably not hitting until the second or third quarter of next year.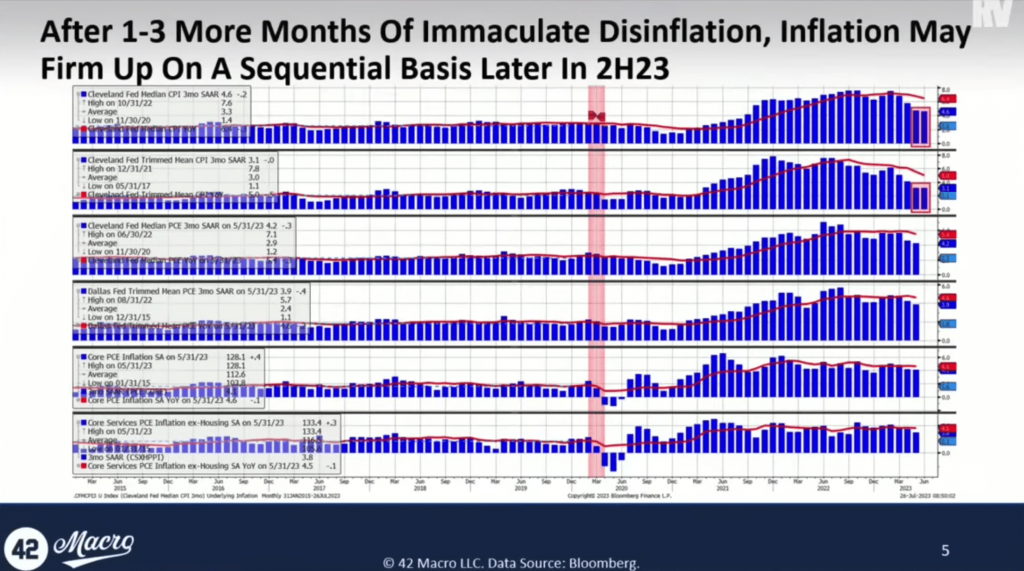 2) The Rate of Change of Inflation Is Important, Not the Level
Investors should be concerned with inflation's direction and velocity – not the current level.
Why? Because the rate of change is what markets react to. While the Federal Reserve may concern itself with the actual level of inflation, investors should strive to be one step ahead of the Fed, analyzing shifts in the direction and speed of travel.
3) A Soft Landing In Growth = A Soft Landing In Inflation
Inflationary impulses in the economy take time to permeate fully – this explains why the BLS and BEA measure inflation as they do.
Inflation has subsided back to around 2% when you exclude the lagging housing components of inflation.
Notably, core services ex-housing CPI and the core services ex-housing PCE deflator are showing three-month annualized rates of 1.4% and 3.2%, respectively.
If we do have a soft landing, it will likely be at some point in 1H24 — a scenario that, while not the most probable, is far more likely than a near-term recession.
Under these conditions, we believe we would see metrics like super core CPI, super core PCE, and core PCE firm up and begin accelerating again.
That's a wrap!
If you found this thread helpful, go to www.42macro.com/macro-bundle to unlock actionable, hedge-fund caliber investment insights and have a great day!