Is It Time to Go Risk On?
Last week, Darius joined @maggielake from @realvision to discuss #Inflation, the U.S. Consumer, and more.
In case you missed it, here are three takeaways from the interview that are important for your portfolio:
1) Consumer Confidence Is Increasing, And The Consumer Economy Is Resilient
With the University of Michigan Consumer Sentiment Index ticking up by a substantial 8.2 points to 72.6 this month, we are seeing the highest level of consumer confidence since September 2021.
This noteworthy monthly increase represents the most rapid rise since the winter of 2005.
The main contributor to this surge in confidence and the ongoing resilience of the consumer economy has been immaculate disinflation.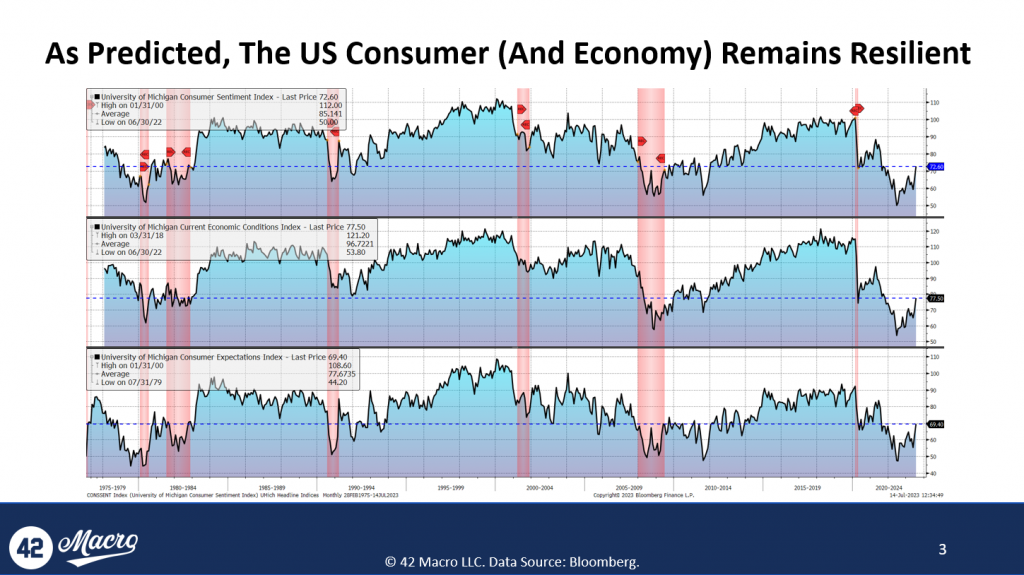 2) Immaculate Disinflation Has Caused Consumers to Believe Prices Will Continue to Decline Over The Next Year
The recent period of immaculate disinflation is leading consumers to anticipate a continued decrease in prices over the year ahead.
Despite a slight uptick in the UMich Expected Changes in Prices Index to 3.4, it is significantly down from the 5.5 level a year ago.
This deflationary anticipation is boosting consumers' expectations of their financial situation, with the UMich Expected Change in Financial Situation in a Year data recording an eight percent month-over-month increase – the highest since July 2021.
Essentially, immaculate disinflation is bolstering consumer incomes, both real and expected.
3) The US Economy Has Been Resilient
This resilience can be attributed to a variety of factors, including:
near record levels of cash in household and corporate balance sheets
Limited private sector credit cycle vulnerabilities due to tepid credit growth prior to tightening and a low share of floating-rate debt
minimal exposure to the volatile manufacturing sector
labor hoarding, and
the effects of Bidenomics
That's a wrap!
If you found this thread helpful, go to www.42macro.com/macro-bundle to unlock actionable, hedge-fund caliber investment insights and have a great day!